"
Our situation is a tight one. Whatcha gonna do, fight or run
?"~Christopher "
Biggie Smalls
" Wallace,
Notorious Thugs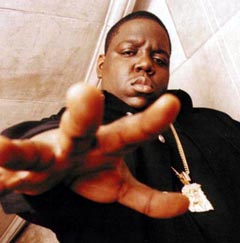 Its been 14 years since the Notorious B.I.G. was allegedly
gunned down in Los Angeles
by a man
sporting a blue suit and bow tie
, and the case remains unsolved. Check out the 2002 documentary entitled "
Biggie & Tupac
" for some theories into the murders of Christopher Wallace and Tupac Shakur. Did
Marion "Suge" Knight
have something to do with it?
Sean Combs
?
Jay Z
? The
Bloods
? The
police
? The
Illuminati
?
I've come to terms with the fact that we will never know the truth behind the death of Christopher Wallace, just as we will never know the truth about the death of JFK, Martin Luther King, Malcolm X, or John Lennon. We should demand more from the investigators in the future.
R.I.P. Biggie.
"
Stay far from timid, only make moves when your hearts in it, and live the phrase 'sky's the limit'
." ~ The
Notorious B.I.G.