Hey all - I'm gonna take this one off, as I'm not feeling too much into upsetting myself with the news of the day. Here are just a few headlines that caught my eye this morning.
An
Afghan Bank bailout could be using U.S. funds
.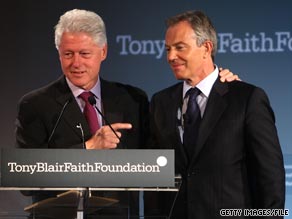 Up to
100 are feared dead after landslides occur in Guatemala
.
In Tony Blair's autobiography,
he discusses how President Clinton's interest in women had a "sexual element" to it
. No shit Tony, Bill loves chasing tail.
There's much more death and destruction in the news besides that, but I'd rather avoid it, head outside, and enjoy the day. I hope you all do the same. Until tomorrow.